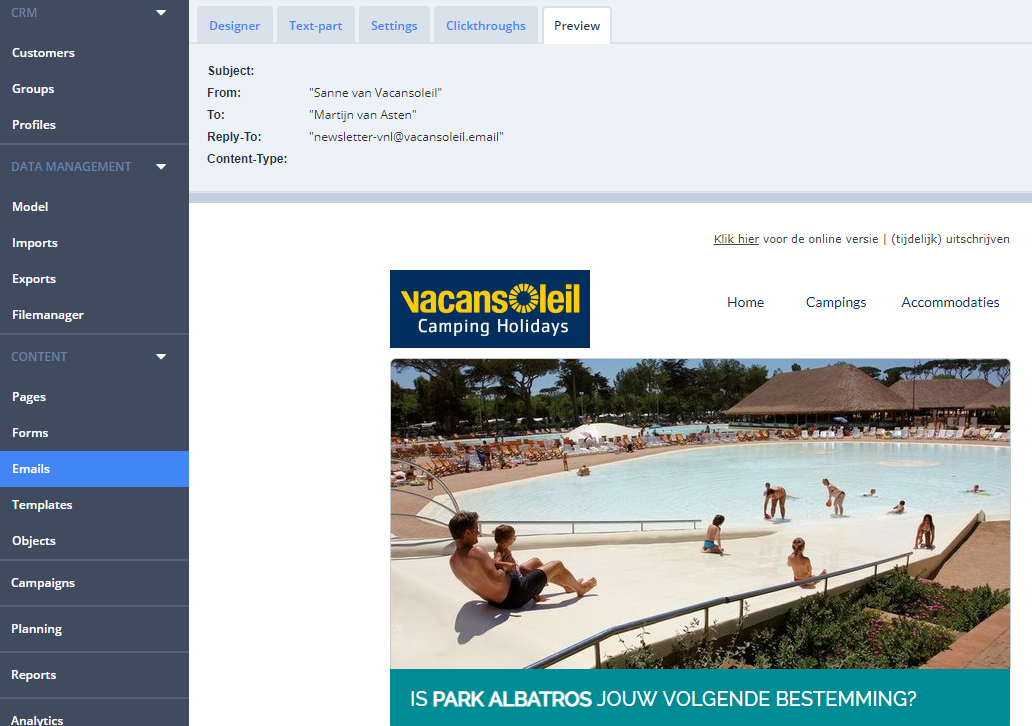 After bringing my sons to school I 'race' to Eindhoven, grab a cup of coffee and off we go!
Currently my days are filled with Clang! Our new e-mail tool that we use for our newsletters. Today I started working on our new marketing-automation campaign. It's a omnichannel experience on multiple marketing channels. To explain it a bit more easier; I create mails that help our customers by showing campsites that matches their needs and wishes.
Based upon our meeting with the marketing automation team I started with creating 3 mails. These mails will have a lot of automated content. To get a good idea of it, these mails will have over 343.750.000.000.000 variations.

Creating mails is done by using a template. Later this morning I started preparing the 2019 template. It's a set of items that our e-mail marketeers in all offices of Vacansoleil can use to create their own newsletter by simply drag and dropping these items into a blank newsletter.
13.30, time for a walk in my lunchbreak. Together with group of around 8 people we brave the Dutch autumn weather. Lucky there was a nice sun helping us with the 2,2 km. walk.
After the lunch it's time to process the newsletter results, I compare all newsletters of all offices and view the versions they've sent to our subscribers. The rest of the afternoon is again working on our campaigns, I upload some customers for a special mailing and work on translations for our free mini holiday mail. Create some concepts for the marketing automation and fine tune our templates.

Maybe it sounds a bit like a boring day, but I'm actually very excited about this progress. Sending e-mails with perfect content at the perfect moment of the customer journey is one of my ambitions since I started doing the e-mail at Vacansoleil (9 years ago). It's cool to being closer and closer to this perfect lifecycle for our customers. Just before I leave the office I discuss the upcoming F1 race with some colleagues and rush back to the beautiful Dommelen.
Greetings Martijn van Asten,
E-commerce